im/possible rainbows in: "CYCLOPS RETINA", London.
/******📡 resolution update 📡 7.0 ******/

Its been a moment (18 months) since the last time I wrote,,,
👁️ but here I am! 👁️

* 12 months ago I quit my job.
I am now 100% on a mission to produce what I want to see in this world.
* On the 3rd of April I reached 40.
Seeing time slip away towards this moment felt hard - like I was going through a process of mourning.
But since the day I turned 40, I feel happy. Its been an interesting time.

/********************************************/
:: THIS PATCH ::

0000 REFRACTIONS IN LIGHT AND TIME
0001 CYCLOPS RETINA
0010 i.R.D. DECALIBRATION TARGET
0011 LIVE PERFORMANCE OF THE SHREDDED HOLOGRAM ROSE
0100 UPDATE: IM/POSSIBLE IMAGES
0101 NOT.GL.TC/H
0110 SOTHEBY'S: BEYOND BINARY
0111 AND THEN: LOOKING INTO THE FUTURE
screenshot from "

falling from mother Etna

"


0000 REFRACTIONS IN LIGHT AND TIME

During the summer of 2👁️22, I had a residency at NeMe within the framework of EMAP, to research cyclopes.

Cyclopes are famous mythical creatures, known for their gargantuan physique and single round eye. However, beyond their most famous features and maybe the name born by the most famous Cyclops Polyphemus, little about them is known. In fact, Cyclopes seem shrouded in mystery, sparking general questions such as: Where can we find contemporary Cyclopes and how do Cyclopes perceive the world?

Recently I learned that a certain Cyclops (going by the name Wodan) traded an eye, in exchange for the sense of future vision.
Tired of a century of only looking towards the past, the Angel of History is now set to undertake a journey to learn from the cyclops future vision.

An introductionary video about my research can be found here.
Refractions in Light and Time is an ongoing work in progress. An iterative outcome will be on show at WRO Poland and will feature a font design by Taietzel Ticalos and a soundtrack by Debit.

Refractions in Light and Time was co-funded by the European Union and the Cyprus Deputy Ministry of Culture.


0001 CYCLOPS RETINA

In collaboration with Kimchi and Chips.
Commissioned by The Beams for Thin Air in London, up until the 4th of June 2023!

My research into cyclopes also resulted into a collaboration with Kimchi and Chips, which is propbably one of the most beautiful works I have ever been part of. The experience of the installation is aetherial and 100% to be seen in person, however, I did post a little documentary video to show what it looks like through the lens of an iphone (w/0 postprocessing).

"In Cyclops Retina, Kimchi and Chips and Rosa Menkman combine their contrasting research into light as both a material and neurological phenomenon. The work can be seen as an experimental film in an experimental format, offsetting Kimchi and Chips' Light Barrier drawing technique with a especially commissioned story written by Menkman, both exploring alternative modes of vision."

"DeCalibration Target" Berlin.
0010 i.R.D. DECALIBRATION TARGET

I am very thankful to the transmediale festival and Stimuleringsfonds for supporting the i.R.D. (The institutions of Resolution Disputes) in making this permanent installation a reality. The Target comes with a
DCT REPO,
featuring a collection of information and work on the DCT algorithm.
From the Transmediale website:
"A blip, a glitch on a satellite photo, an error in the rendering of an image shot by a drone. What might seem a mistake is a freshly painted marker that sits on a rooftop in one of the most historic neighbourhoods of Berlin. Located at the riverside, near the remains of the Berlin wall, the target functions as an AR beacon. On activation offers access to a cache of research about the DCT algorithm and the JPEG compression.
This 16 x 16m target can only be read from above, reminding us that resolution, and its recognition, determines what is seen, unseen or illegible. In Decalibration Target, Rosa Menkman explores what happens when something exists outside our dimensions or system units of scale, and asks what tools are needed to distinguish it from its environment.
Commissioned for Out of Scale, the 2023 transmediale exhibition, the i.R.D. Decalibration Target can only be seen from above through satellite imagery or taken home as a flyer and postcard souvenir from transmediale warehouse."
Marker, flyer and postcard picturing the Target.
0011 LIVE PERFORMANCE OF THE SHREDDED HOLOGRAM ROSE


The transmediale also invited me onto their stage, to perform "The Shredded Hologram Rose"

Inspired by Fragments of a Hologram Rose, a 1977 science fiction short story by William Gibson, this lecture performance explores the violent stories of standardisation embedded in 3D composite objects.

The performance takes place in a little "cube" (home pod) of a media archeologist a century of cycles from now. The paraphanelia on her walls and desk clearly show her investment into the stories of the Angel of History - now going by the name Iana? -, the now obsolete DCT algorithm and the i.R.D. DeCalibration Target.

I rendered the performance into a video format especially for the NewArt.City Memory Card festival, which can watched back

here


Performing "Shredded Hologram Rose" during Transmediale.



lM/POSSIBLE IMAGES READER" (2023)


0100 UPDATE: IM/POSSIBLE IMAGES

Luzi Gross and I finally released the
Im/Possible Images Reader.
I initiated my - still in progress - research on Im/Possible Images during my residency at CERN with a single question:

Imagine you could obtain an 'impossible' image of any object or phenomenon that you think is important,
with no limits on spatial, temporal, energy, signal/noise or cost resolutions.
What image would you create? (the answer can be a hypothetical image of course!)
The reader represents a moment of reflection on the progress, shapes and forms my im/possible research has made and obtained. It constitutes of a collection of texts written by me, Luzi and our peers, and ranges from short stories, to image work, manuals, (technical) documentation and essays. Some of these materials were specifically commissioned for this reader, whereas others have been generously allowed to be reprinted.
The organization of this publication is modular; the chapters can be read independently. Despite this, we chose the order in which we present them for a reason: to provide a consistently additive flow that builds outwards from the five axes of the exhibition.
* The Blob has been installed in multiple countries China, Cyprus, UK and Germany.
* My im/possible images research is levelling up with a residency at EPFL, Lausane where I will research impossible rainbows and unnamed colours.
The BLOB installed by Iris Long and @He_Zike for TEMPORAL STACK: THE DEEP SENSOR (2023).
NOT.GLI.TC/H

@TRITRI, CHICAGO 2023
0101 NOT.GLI.TC/H

It had been 10 years since the 5th GLI.TC/H 2123 event in Birmingham took place. The
GLI.TC/H/
BOTS felt it was time to consider this hiatus and see where the genre has gone and where GLI.TC/H should go. On April 1st, the community showed up for 14 talks, 8 performances, 5 installation pieces, 7 screenings and an
openports gallery show
.
The livestream recording of the panel talks are available
here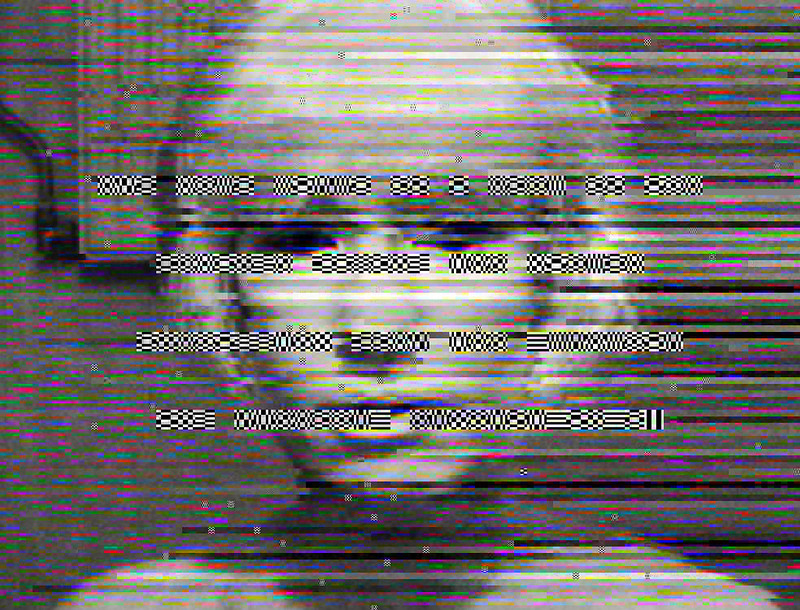 JPEG FROM A VERNACULAR OF FILE FORMATS, (2009 - 2010), 2023 REVISITATION WITH HIDDEN MESSAGE IN DCT.
0110 SOTHEBY'S: BEYOND BINARY AUCTION

After Sotheby's used the image of the Angel of History as part of the promotional materials for their 30 piece -all male- glitch auction, it only took 'some' noise in the twitter hellscape for their auction to be put on hold.
In response, Sotheby's enlisted Dina Chang and Dawnia Darkstone to curate more equitable. Sotheby's also asked me to
write an essay
to introduce the many layers of to glitch art and invited me to
a panel discussion
in their actual auction premises in New York.
I am thankful to Dina to invite me into her curation and for the gesture of patronage by those bidding and collecting my work (going into this, I was afraid I might not even sell!)
The auction house
produced this special 1/1 print
for the new auction, in which I embedded an in DCT encrypted message about value:
"The true value of a work of art extends beyond its market, enwrapping both its cultural and historic significance."
Auction houses have a responsibility beyond profit-making. By embracing a broader definition of value and ensuring equitable curation via a diverse roster of artists, auction houses can contribute to a vibrant, diverse, and inclusive market.
0111 LOOKING INTO THE FUTURE




0111 LOOKING INTO THE FUTURE



A lot is coming up, but I would like to highlight 3 very special things:

* From June - August I will be in Tasmania

* September - November I will have my EPFL residency, during which I will research impossible rainbows and unnamed colours.