DeCalibration Target
DCT REPO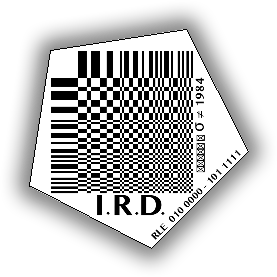 DCT:SYPHONING the 64th Interval.
An exploration of the Ecology of Compression Complexities.
DCT:SYPHONING is a contemporary translation of the 1884 Edwin Abbott Abbott roman "Flatland". The work describes some of the algorithms at work in digital image compression.
Inspired by Syphon, an open source software by Tom Butterworth and Anton Marini, in DCT:SYPHONING, an anthropomorphised DCT (Senior) narrates its first SYPHON (data transfer) together with DCT Junior, and their interactions as they translate data from one image compression to a next (aka the "realms of complexity").
As Senior introduces Junior to the different levels of image plane complexity, they move from blocks (the realm in which they normally resonate), to dither, lines and the more complex realms of wavelets and vectors. Junior does not only react to old compressions technologies, but also the newer, more complex ones which 'scare' Junior, because of their 'illegibility'.
Production of DCT:SYPHONING
DCT:SYPHONING was first commissioned by the

Photographers Gallery

in London, for the show Power Point Polemics. This version was on display as a Powerpoint Presentation; a .ppt (Jan - Apr 2016).
A 3 channel video installation was conceived for the 2016 Transfer Gallery's show "

Transfer Download

", first installed at Minnesota Street Project in San Francisco (July - September, 2016)
DCT:SYPHONING released as VR, commissioned as part of DiMoDA's

Morphe Presence

and later as stand alone (2017).
>>