[ 0100 ]
...
..
Knowledge of the hidden and knowledge of the measurable What happens when something exist outside the dimensions or system units of scale? In order to distinguish something of significance from its background environment we must first be able to perceive it. If it remains invisible, inaudible, intangible, or unmeasurable it remains indiscribable and therefore unknowable at least to most of us.


.
- Graham
Harman on OOO objects.
.
In 2013, Steyerl released the video essay:

How Not to be Seen

: A Fucking Didactic Educational .MOV File. In that video Essay, she

[or: Distances from and behind the screen]
Scale, aspect ratio, size, frequency.












/ VERTICAL CINEMA :: LUNAR STORM
Commissioned by Sonic Acts and ESA (European Space Agency) as part of the Vertical Cinema program.

About the Vertical Cinema project
What we usually identify as the indisputable 'temple of film', the Cinema, is not really a given, especially not in the realm of experimental cinematic arts. Yet this is somehow sidelined in the process of re-thinking the possibilities of cinematic experience, mostly because the architectural frame is already there, if only as a convention established a long time ago within the theatrical arts. Actually, the history of experimental cinema and the art of the moving image suggests that the space might very well be the crucial aspect of the total audiovisual experience – something one should always question and take into consideration when producing a work for audiovisual, sensory cinema.

For the Vertical Cinema project we 'abandoned' traditional cinema formats, opting instead for cinematic experiments that are designed for projection in a tall, narrow space. It is not an invitation to leave cinemas – which have been radically transformed over the past decade according to the diktat of the commercial film market – but a provocation to expand the image onto a new axis. This project re-thinks the actual projection space and returns it to the filmmakers. It proposes a future for filmmaking rather than a pessimistic debate over the alleged death of film.

Vertical Cinema is a series of fourteen commissioned large-scale, site-specific works by internationally renowned experimental filmmakers and audiovisual artists, which will be presented on 35 mm celluloid and projected vertically with a custom-built projector in vertical cinemascope.

The programme is made solely for projection on a monumental vertical screen that was first upended in 2013 at Kontraste Festival in Krems, Austria.

About Lunar Storm. 4'15'' COLOUR; 2013.
The surface of the Moon seems static. Though it orbits the Earth every 27.3 days, with areas of it becoming invisible during this rotation, it is always (visibly or invisibly) above us, reassuringly familiar. The Moon is the best known celestial body in the sky and the only one besides the Earth that humans have ever set foot on.

The Seas of the Moon (Lunar Maria), consisting not of water but of volcanic dust and impact craters, appear motionless to the naked eye. Here, volcanic dust forms a thick blanket of less reflec- tive, disintegrated micro particles. But on rare occasions, beyond the gorges of these Lunar Maria, and only when the lunar termi- nator passes (the division between the dark and the light side of the moon) a mysterious glow appears. This obscure phenomenon, also known as lunar horizon glow, is hardly ever seen from Earth.

Beyond the gorges of the Lunar Maria, the Moon is covered with lunar dust, a remnant of lunar rock. Pummelled by meteors and bombarded by interstellar, charged atomic particles, the molecules of these shattered rocks contain dangling bonds and unsatisfied electric connections. At dawn, when the first sunlight is about to illuminate the Moon, the energy inherent to solar ultraviolet and X-ray radiation bumps electrons out of the unstable lunar dust; the opposite process occurs at dusk (lunar sunset). These electrostatic changes cause lunar storms directly on the lunar terminator that levitate lunar dust into the otherwise static exosphere of the Moon and result in 'glowing dust fountains'.official website || Vertical Cinema about
Myopia (2015)
13x3.5m wall vinyl showcasing wavelets and extruding vectors.
Zooms into the JPG2000 wavelet compression artefacts.
Myopia zooms into the JPG2000 wavelet compression artefacts, created by introducing a line of 'other language' into the JPEG2000 file data.
The day before the iRD closed its doors, visitors were invited to bring an Exacto Knife, to cut their own resolution of 'Myopia', and mount them on any institution of choice (book, computer or other rigid surface).
DE/CALIBRATION TARGET
&& DCT REPO



DCT GENEALOGIES


◧⬒◨◧⬓

HOW NOT
TO BE READ.PDF
▣⬓⬒◨◧

DCT ENCRYPTION
STATION
◨◧◧⬓◨



JPEG


▣▣▣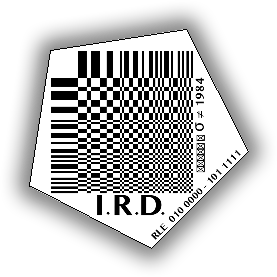 IM/POSSIBLE IMAGES
◧⬒◨⬓◧

THE i.R.D.
DE/CALIBRATION
ARMY
◧⬒◨⬓◧

SHREDDED HOLOGRAM ROSE
◨◧◧⬓◨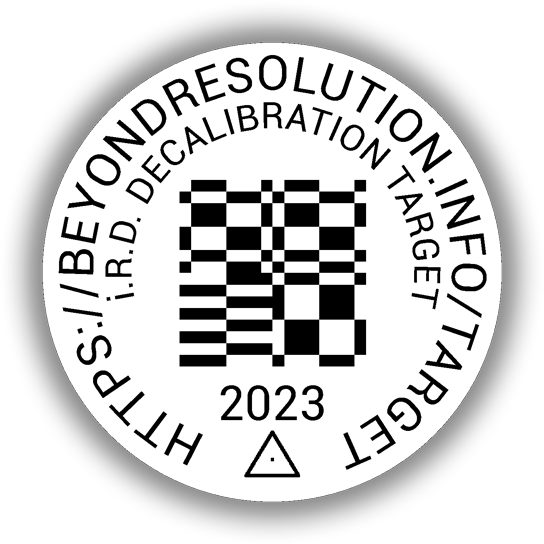 DeCalibration Target (2023)
A blip, a glitch on a satellite photo, an error in the rendering of an image shot by a drone. What might seem a mistake is a freshly painted marker that sits on a rooftop in one of the most historic neighbourhoods of Berlin. Located at the riverside, near the remains of the Berlin wall, the target functions as an AR beacon. On activation offers access to a cache of research about JPEG compression.
This 16 x 16m target can only be read from above, reminding us that resolution, and its recognition, determines what is seen, unseen or illegible. In Decalibration Target, Rosa Menkman explores what happens when something exists outside our dimensions or system units of scale, and asks what tools are needed to distinguish it from its environment.
Commissioned for Out of Scale, the 2023 transmediale exhibition, the DeCalibration Target can only be seen from above through satellite imagery or taken home as a postcard souvenir of this aerial perspective from transmediale warehouse.

Produced by

transm

ediale

, with the support of the Stimuleringsfonds Creative Industries NL.
DE/CALIBRATION TARGET
&& DCT REPO
DCT GENEALOGIES
◧⬒◨◧⬓

HOW NOT
TO BE READ.PDF
▣⬓⬒◨◧

DCT ENCRYPTION
STATION
◨◧◧⬓◨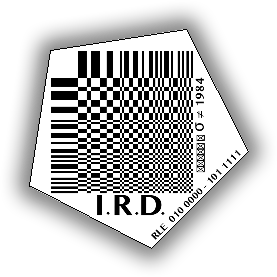 IM/POSSIBLE IMAGES


◧⬒◨⬓◧

THE i.R.D.
DE/CALIBRATION
ARMY
◧⬒◨⬓◧



SHREDDED HOLOGRAM ROSE




◨◧◧⬓◨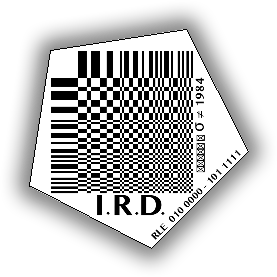 RELATED WORKS:
CCBYNCSA Laura Fiorio
Performance of the Shredded Hologram Rose during the Transmediale 2023.
The Shredded Hologram Rose (2021-2023)
︎ Published in Angelaki: Shredded Hologram Rose

PDF

and

ePuB
The Shredded Hologram Rose is inspired by "Fragments of a Hologram Rose," a 1977 science fiction short story by William Gibson.

In this short story, a Media Archeologist from the Future - a "100 cycles" in the future - comes home to her Hyper Yves Klein Blue-saturated cube. There, she reflects on her day, which started in misery: she fractured her dear Hologram Rose.


"From the shredded side of a Hologram, one can peek into the 3D objects' Delta Axis. From this perspective, one can see the Holograms render objects, which form a repository of layered information about the Holograms provenance, metadata, and other information that the unscathed Hologram would never prevail."


She contemplates the information she gathered during her visit of the DeCalibration Target, where she sourced the i.R.D. information on DCTs, an algorithm that lies at the basis of the now decommissioned JPEG compression, an encoding protocol she will have to understand in order to fix (de-glitch) her beloved Rose.

An earlier short video work was created for the group exhibition

Fragments of a Hologram Rose curated by Rick Silva for Feral File.

(29 June 2021). The work was extended for IMPAKT Festival: The Curse of Smooth operations and NAC Memory Card festival.
The Shredded Hologram Rose references the

DeCalibration target

and

im/possible images

.
︎ read: PDF Essay as published by Photoresearcher

Whiteout is based on an essay of the same title, originally written for AX15 (see below)
The sound starting from around minute 9 is from a live performance recording by Mario de Vega.
The stroboscopic images are all from the slides of the 2 year colloquium "Resolution Studies"


Whiteout is inspired by my time during the CERN Collide, our climb of the Brocken and a voyage on board of a ship of the Chilean army to Antartica.

In Whiteout, I tell the story of an exhausting hike during a snowstorm. As we makes our way up the mountain, I experience the loss of physical sensations - leading to an inability to see, hear, or orient myself. While at first I knew what direction I was going, now, the spatial dimensions are wiped out. I experience oversaturation by nothing - as the environment starts to offer itself in new ways.

I ask myself, what does it mean, to move without visual or auditory references
or to physically plot a course when there is no conventional sense of direction or even horizon?
To feel oversaturated, by a lack of anything? What new ways of sensing can be found?

︎ ARTFORUM write up: ArtForum, December '21, page 207




Cyclops Retina
In collaboration with

Kimchi and Chips

.
Commissioned Install for Thin Air @

The Beams

, on till the 4th of June, London, UK.

In Cyclops Retina, Kimchi and Chips and Rosa Menkman combine their contrasting research into light as both a material and neurological phenomena to create an experimental video essay presented in an experimental format. The specially commissioned narrative written and narrated by Menkman takes us on her journey into the cave of a cyclops so that she might learn how to see into the future. This journey is illustrated by millions of beams of light which are merged in the haze to create floating graphics in the air. The installation and narrative delve into unconventional modes of vision, pushing boundaries and exploring new ways of experiencing light and perception.
DE/CALIBRATION TARGET
&& DCT REPO

THE i.R.D. 365 PERFECT DE/CALIBRATION ARMY



365 Perfect is an app for the mobile phone that describes itself as:

"the best FREE virtual make-up app, period.
It's like having a glam squad in your pocket"

The free app offers virtual photo make-up, including filters such as 'delete blemishes' and 'brighten or soften skin'.
It can also deepen the smile, add lipstick or lip tatoos, enlarge the eyes and make the face slimmer,
lift the cheeks, enhance the nose, or resize the lips.
Change the colour of your irises.
whiten the teeth, lengthen your lashes, and even groom your brows.


I used the app on the most wide spread and even famous"white shadows"
- the caucasian ladies that were used as colour test cards for image processing -
not once, not twice, but hundreds of times over and over ...
... so much perfection ...

With every tuning of the face, the portraits would turn just one shade lighter, slimmer or smoother...
until the newly beautified faces would move from exaggeration to
showcasing the absurdity of beautifying standards.

︎
more information