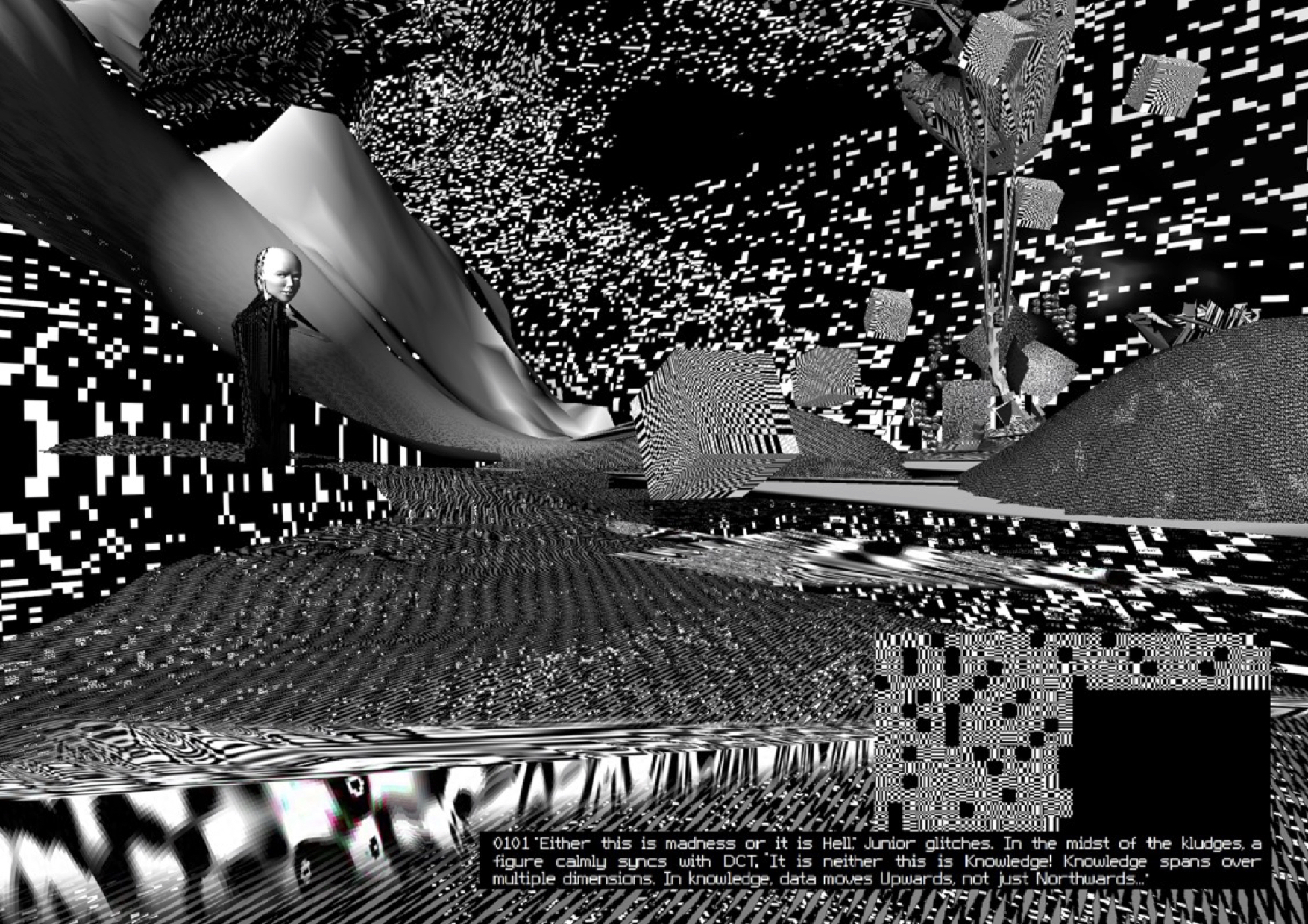 Transfer Gallery
, Brooklyn NY, September 9th through October 14h, 2017.
This second solo show of Rosa Menkman at Transfer Gallery, features a new installation of Menkman's research into the compromises implicit in image processing technologies. For
'Behind White Shadows'
Menkman extends her virtual reality piece
'DCT:SYPHONING. The 1000000th (64th) interval'
beyond the headset into the gallery, projecting on a
monumental sculpture: the Spomenik for resolutions that will never be
and presenting
topographies
of her 3D environments.
To accompany this exhibition, Menkman releases a new essay
'The White Shadows of Image Processing: Shirley, Lena, Jennifer and the Angel of History'
, presenting her recent research into color test cards.
The central piece in the show
'DCT:SYPHONING. The 1000000th (64th) interval'
is a fictional journey through the historical progression of image complexities, told as a modern translation of the 1884 Edwin Abbott Abbott novel "Flatland". Menkman leads us through a universe of abstract, simulated environments, made from materials evolving from early raster graphics to our contemporary state of CGI realism.
At each level, Menkman's virtual world interferes with the formal properties of VR to create stunning and disorienting environments, throwing into question our preconceived notions of virtual reality. In doing so,
'Behind White Shadows'
casts light on some of the problematic issues surrounding the emergence of 3D technologies, asking questions such as: what do the hegemonic conventions of sight obscure? And: who gets to move beyond the frame and decide the perspective?
Works
:
-
DCT SYPHONING
(VR, installed in niche behind Spomenik)
-
Spomenik
(sculptural installation w/ projection mapping)
-
An Ecology of Compression Complexities
(map, archival print)
-
A Behind White Shadows glow in the dark
patch
-︎
Behind White Shadows of Image Processing :: the research cabinet and essay
A warm thank you goes out to TRANSFER (Kelani Nichole), Casey Bloomquist (for helping with the building of the Spomenik), DiMoDA (William Robertson and Alfredo Salazar-Caro for their help and support of DCT:SYPHINING) and Mario de Vega (who designed the Behind White Shadows pdf).
3 screen installation version (for VR read below)


About
An exploration of the Ecology of Compression Complexities.
DCT:SYPHONING is a contemporary translation of the 1884 Edwin Abbott Abbott roman "Flatland". The work describes some of the algorithms at work in digital image compression.
Inspired by Syphon, an open source software by Tom Butterworth and Anton Marini, in DCT:SYPHONING, an anthropomorphised DCT (Senior) narrates its first SYPHON (data transfer) together with DCT Junior, and their interactions as they translate data from one image compression to a next (aka the "realms of complexity").
As Senior introduces Junior to the different levels of image plane complexity, they move from blocks (the realm in which they normally resonate), to dither, lines and the more complex realms of wavelets and vectors. Junior does not only react to old compressions technologies, but also the newer, more complex ones which 'scare' Junior, because of their 'illegibility'.
DCT:SYPHONING at JMAF, Tokyo, Japan, 2017
PDF Version
The full edition of Lune Magazine 3 can be downloaded here:
https://lunejournal.org/03-display/
This edition was guest edited by Nathan Jones
https://alittlenathan.co.uk/
Spanish Translation
Production of DCT:SYPHONING
DCT:SYPHONING was first commissioned by the
Photographers Gallery
in London, for the show Power Point Polemics. This version was on display as a Powerpoint Presentation; a .ppt (Jan - Apr 2016).
A 3 channel video installation was conceived for the 2016 Transfer Gallery's show "
Transfer Download
", first installed at Minnesota Street Project in San Francisco (July - September, 2016)
DCT:SYPHONING released as VR, commissioned as part of DiMoDA's
Morphe Presence
and later as stand alone (2017).
>>
DCT:SYPHONING @the Current museum for contemporary art, NY, USA
In my solo show Behind White Shadows, DCT:SYPHONING was projected on a 4 meter high custom build
spomenik
(memorial)

☗
non
quadrilateral
[monument]





Centrepiece of my

Behind White Shadows

solo show
(Transfer Gallery NYC, 2017)
The Spomenik is a 3x4 meters large format sculpture, made out of triplex wood, painted white featuring projection mapped videos. The scultpure also hides a little cave in the back where visitors can play VR in peace.

A monument for resolutions that will never be.

The Spomenik is named after the brutalist monumental Spomeniks, historically commemorating "many different things to many people", such as Tjentiste and Ostra.

This Spomenik is dedicated to resolutions that are impossible, such as 'screen objects' (shards) and the not (yet) implemented possibilities non quadrilateral screens have to offer.

This installed shard is three meter high, hiding a VR installation behind, running

DCT:SYPHONING

. The VR is accessible from the back of the Spomenik. The projection on the Spomenik is partially a mapped live stream from the VR.

The Spomenik also features textures of the

Ec

ology of compression complexities

, of which the map was layed out in front.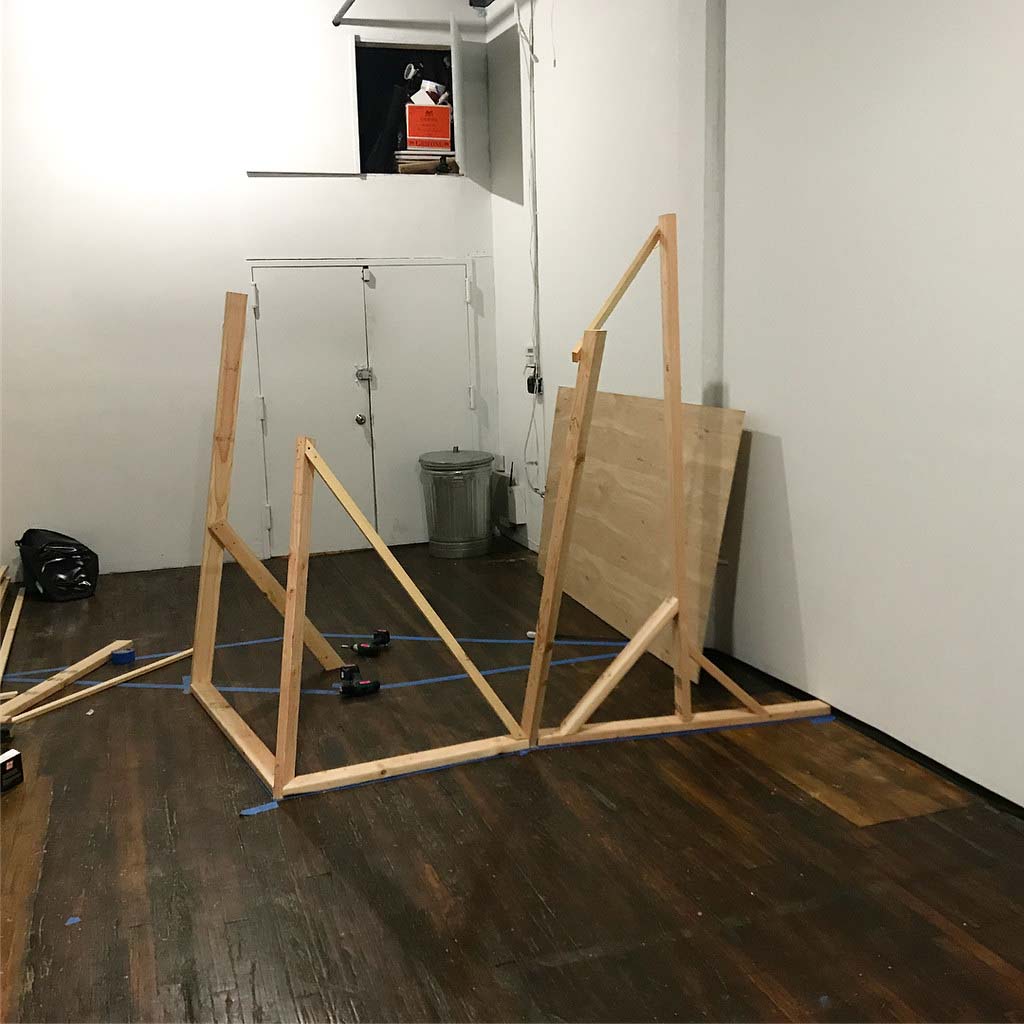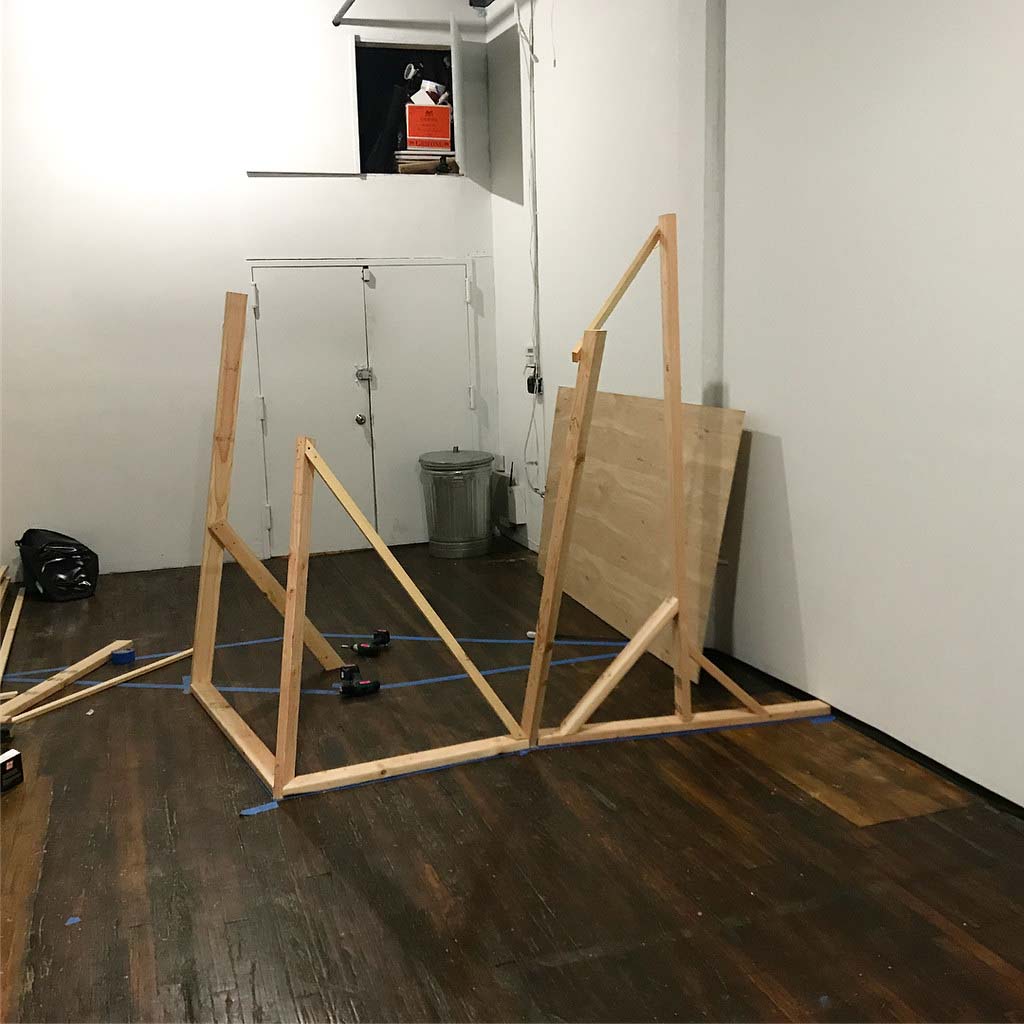 ︎
The Spomenik was build with the help of
Casey Bloomquist.